The brand is one of the most popular in Moldova, an Eastern European country; and has been in production since 1954. Doina cigaretes are classified as the cigarettes of the oriental type "Moldavian Blend" having a mono acetate filter.
Doina cigarettes
These cigarettes are made basing on the centuries-old experience and traditions, which have found market acceptance in the Eastern European countries and the Mediterranean.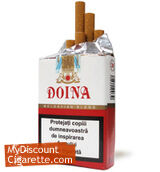 The blend of different commodity and phytologic brands belonging to aromatic group, oriental and semi-oriental type are used as the raw material for these cigs production.
Doina brand is manufactured by Moldavian Tobacco Company Tutun-CTC famous for it's other brands such as: Astra, Plai, Orbita and many others. Independence from production, neutrality in the test implementation, regular quality and hygienic standard check such as tar, nicotine and others – all these allow to consider the production by "Tutun-CTC" to be of a high quality.
Doina cigarettes have won several awards on international exhibitions and forums and are also highly appreciated by native smokers.
The cigarettess are intended for middle class smokers as their cost appeals a wide consumers' auditorium giving preference to the traditional cigarettes with a pleasant aroma.
Variety
Doina in hard pack (Doina King Size), Doina in soft packs, Doina Menthol cigarettes, Doina Premium Gold, Doina Premium, Doina Classiс, Doina Lux Premium Special Blend.
---
This article about a brand of cigarettes is a stub. You can help the Tobacco Wiki by expanding it.
---