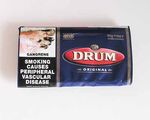 Drum is a popular brand of fine-cut handrolling tobacco, or shag. It was originally produced and distributed by the Douwe Egberts corporation. Douwe Egberts was purchased by the Sara Lee Corporation, which sold Drum to Imperial Tobacco, the current British producer. After Douwe Egberts discontinued Drum in the USA, Republic Tobacco of Glenview, Illinois, began making its own version of Drum for distribution in the United States, usually sold accompanied by a package of 1¼ size JOB rolling papers. Both versions are considered halfzware (half dark) type tobaccos, although the flavors and cuts are not the same due to different methods of curing. Halfzware usually indicates a combination of dark Kentucky burley and bright Virginia tobaccos. Imperial also produces Drum in gold (blonde) and light (mild) varieties. Drum's main competitor in the US is Bali Shag rolling tobacco.
The two versions of Drum taste very dissimilar; the European original Drum is barrel-cured in the Netherlands using a centuries-old process, whereas the American version is made at the Top Tobacco factory in North Carolina.
External links
Edit
Community content is available under
CC-BY-SA
unless otherwise noted.