Port Royal is a popular brand of cigarette rolling tobacco. There are three different flavors, Black Label,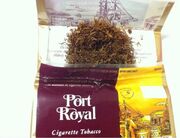 Kentucky Bourbon and Original, also rum and wine and highland whisky in Australia.
Cost
[
]
In Australia a pouch costs $43.00au, 50gram pouches are $80+.
In New Zealand a 30 gram pouch costs $62.90, and a 50gram pouch costs $90+
It smells very sweet- distilled in Rum and Wine, then dried before packaging. This tobacco had a distinctive vanilla-like flavour. There is also a new limited edition black label flavour that comes in both the 50g and 30g pouches. Port Royal can cost as little as 5 dollars for 50grams without the applied taxes. Good shit Bec White
---

This article about a brand of tobacco is a stub. You can help the Tobacco Wiki by expanding it.
---